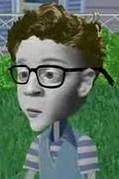 Gordy secretly likes TTTE movies like Hero of the Rails. He wears large, square spectacles and is
Emma Rhinehart
's son. Gordy and Candy May starred in a movie called
Viewers' Revenge
.
Despite being sensetive, he is the 'Lord High Magesty' of the Red Dog Gang
Gordy has to eat Budgie Burger frequently when sick in order to get easy access. He stars in the spinoff, The Great Gordy Show, which was made by those who made The Little Lulu Show. He is also in Diary of a Nerdy Kid.
Gordy is rather artistic. Johnny Abatti says they are very 'good' pictures in Fanon.
In Angela Anaconda, Gordy is dressed in a blue and white striped shirt with a light blue vest over it and brown pants, alongside in The Great Gordy Show, Diary of a Nerdy Kid, Nanette and Gordy and Double G. In Gordy the Artist, Gordy wears red dungarees and a blue hat with a white G on it.
Relatives
Edit